Buying vs renting in Michigan, which one is right for you? This is one of the biggest – and scariest – questions facing any prospective mover in 2021. How you answer this question doesn't just govern where you live. It will affect all the big areas of your life. It'll determine your lifestyle, impact your finances, and even dictate how you plan for the future.
This is a hard question, and like most hard questions, there isn't a one-size-fits-all answer. In some cases, renting is the best decision you can make. In others, buying is the wisest choice.
To decide what makes the most sense for you, you have to weigh all the data.
There's a lot to consider, so at TJ Homes we thought we'd make it easier for you. We put together this handy infographic (below) to walk you through the decision-making process. It highlights the biggest questions to ask and the most important details to consider in the renting vs buying in Michigan debate.
And if you want a little more info, no worries. After the infographic, we'll elaborate on each point. Let's get into it.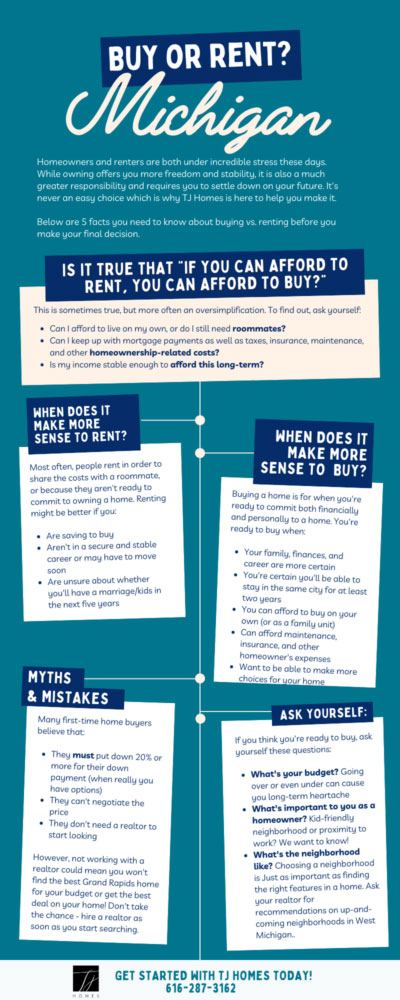 Is It True That "If You Can Afford to Rent, You Can Afford to Buy?"
You've probably heard this axiom a hundred times. While it's generally true, it is an oversimplification.
Most of the time mortgage payments are lower than rent payments. Plus, when you buy a home you begin building equity. When you rent, you never recoup the money paid.
For those reasons, buying is a better long-term financial move. (Even accounting for the extra costs of buying a home.)
But there are cases where it's best not to make that move today. The next two boxes on the infographic help uncover these distinctions.
When to Rent Instead of Buy
Renting is often the best option for young professionals and those building or rebuilding their finances from scratch. Though your costs in a rental property can't be recovered when you move, there are several advantages to consider. Here's when renting makes sense:
If you have limited or unstable income and can't afford homeownership expenses, such as maintenance, amenities, or a down payment
You're unsure of where you want to live in the next five years
You plan to get married or have kids in the near future
Avoid Myths and Mistakes
Hopefully these guidelines already have you on the right track. Now it's just important not to fall victim to myths and mistakes.
There's a lot of misinformation about home buying out there. Plenty of bad ideas have been passed down and accepted as true.
The best way to get around this is simply to do your homework. Kudos to you, you're already doing that by reading this article! To go further, speak with a realtor or talk to financial professionals associated with your bank.
These experts should be people you trust (again do your homework and read reviews and testimonials). They'll be able to provide you with numbers and facts specific to your situation. When many people do this they are surprised just how affordable buying your first home is. And they rest a lot easier knowing how the whole process works.
Buy the Right Home
If you've read this far and are leaning towards buying a home, good for you! That's an exciting time for anyone. But it doesn't mean you should just run out and buy the first home you see. Instead, it's important to find the right home.
When you're renting you don't have to be as selective. You're likely only there for 12 months and you generally have a landlord who is responsible if things need to be fixed. But when you buy a home, you take all that responsibility on yourself. You make a long-term commitment and are legally and financially bound to paying off a mortgage.
That's why it's always better to rent than buy the wrong home.
To avoid this struggle, be careful and seek professional advice when looking for a home. Here are some questions we ask our clients to find the perfect home for them:
What's your budget?
What is important to you as a homeowner?
What features are must-haves for your home?
Do you have/plan to have kids or pets, and what's important for them?
What kind of neighborhood do you want to live in?
Do you want to live in a neighborhood with or without an HOA?
Get a Little Help in the Process
So where are you in the great buying vs. renting in Michigan debate? Hopefully this blog and infographic have made it easier for you to decide.
But the good news is that no matter where you are in the process you can get a little help. By hiring a licensed real estate agent that you trust, you will have a trusted partner to help navigate any confusing steps in the buying or renting process, as well as being able to look to your agent for any advice from past experience. We are proud to have a group of top real estate agent teams that have decades of combined experience in the field, as well as knowledge of the Grand Rapids, MI area. By spending time with countless real estate listings in the area, we are always familiar with the properties for sale in the area, perfect for helping you find your next spot. At TJ Homes we're happy to sit down and talk through your questions and concerns. We help people feel right at home all throughout the real estate process and we'd love to do the same for you.
Give us a call for more information.
Schedule a Strategy Session
Contact Us Page
"*" indicates required fields